IYDC Combo kali ini adalah IYDC Combo yang pertama, yaitu 3 Fallen Angels, dari Rex Raptor! :D
3 Fallen Angels - Kombo ini cukup simple, pertama kartu yang diperlukan :
Limit Impulse
Darklord Asmodeus, atau Fairy lain
Darklord Superbia
Darklord Edeh Arae, atau Fairy lain
Call of the Haunted atau Monster Reborn
Pertama, aktifkan Limit Impulse!
"Limit Impulse"
Pertama, Send 2 cards, yaitu 1 Darklord Superbia dan 1 Edeh Arae, tapi bisa juga kartu lain, tapi usahakan 1 dari 2 kartu itu berada di graveyard. Edeh Arae bisa diganti dengan kartu Fairy lain. Special Summon 2 Tokens.
Kedua, Tribute Token, Normal Summon Asmodeus!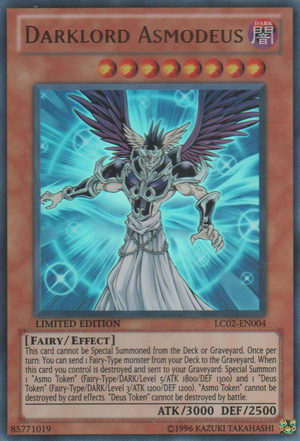 Ketiga, aktifkan effect Asmodeus, send 1 Fairy ke grave. Jika tadi kamu Send Superbia, berarti sekarang kamu send Edeh Arae, atau fairy lain. Begitu juga sebaliknya. Pokoknya, buat 2 monster itu ada di graveyard.
Keempat, Aktifkan Monster Reborn!
Special Summon Superbia! Effect, Special Summon Edeh Arae!
Daan. Tada! 3 Fallen Angels ada di Arena! :D
Sekian dari saya, Trima Kasih :D