Frog Fishborg Turbo -
Yo Duelist~ Barusan Rarehunter ngepost ya? Sekarang giliran saya ngepost Ide Deck terbaru saya -,-d
Frog - Fishborg - Turbo. Sepertinya dari 3 kata itu sudah terlihat decknya seperti apa. Sudah ya? Kalau gitu ndak usah dibaca xDD
*plakk
Pertama, kenapa saya kepikiran Ide ini? Well, karena ide munculnya tiba-tiba xD
Saat itu saya sedang bereksperimen mencoba Deck Frog Lancer, yaitu Frog yang menggunakan Ronintoadin dan banish Posion Frog yang akan jadi tombak untuk Sea Lancer =w=
Karena Frog punya kemampuan Swarming Cepet hampir tanpa minus tiap turnnya :D Jadi bisa buat Normal Summon si Lancer
Tapi beberapa duel dengan deck itu, hasilnya tak memuaskan. Nggak sebanding dengan Fire Mist dan Fire King yang sekarang berkeliaran (Ceritanya saya main di DN). Dan disaat itu juga, saya benci dengan deck api xD
(malah curhat lol :v)
Jadi saya coba cari kartu" Support Water / Aquanya Frog, agar Air menjadi lebih Wow =w=d
Mungkin ada pertanyaan dibenak kalian, "Kalau mau ngalahin api pakai Air, Kok Nggak pakai Mermail - Atlantean"
Alasanannya yaitu saya nggak srek ama Mermail xD
Ok Latar Belakangnya udahan ya~ xD
Yap, di jaman Meta saat ini, Frog sering di abuse buat monster yang reqruit tribute. Nah ini yang mau saya pergunakan :D
Tribute ? Mungkin anda pakai..
Monarch ? Mainstream!
Egyptian God? Mainstream!
Burung-Burung api? mainstream~ xD
Yap, Saya pakai Sea Lancer! :D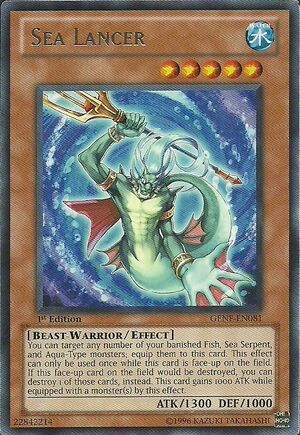 "Feel My Spear"
Effect :
Yosh~ Pakai Combo dasar dari Frog Lancer, dan Equip dari banished zone. Fishborg kan Tunernya setelah dipakai langsung kebanish, nah bisa di balikin pakai ini. :D
Satu lagi kartu As dari deck ini :
"Bounce-Bounce... Webbet..."
Ini kartu INTI dari deck ini. Bisa di SS dengan discard satu, instan Nge Dump satu, dan bisa kembali ke tangan untuk mengulangi Combonya :D
Ada yang belum tahu Effectnya ?
Effect :
Ahaha~ Keren kan xD Karena disini kita Main Turbo, Jadi Monster disini jauh lebih banyak dari Spell dan Trapnya xD.
Ok, Masa' Beaternya cuma Sea Lancer? Dia kan gampang keok kalo kena Veiler?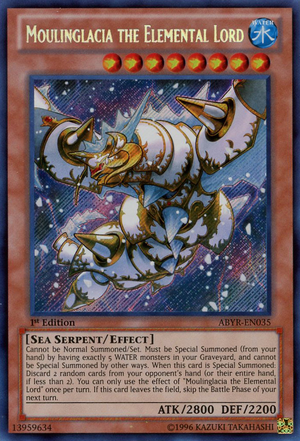 "Second Elemental Lord... Let me Freeze you~"
Yap, Moulin Glacia! :S
Ini Kartu imba lho kakak xD Cuma butuh 5 Water di Grave, maka bisa di SS ! :D
Kenapa cocok di Deck ini? NgeDump Waternya cepet lho, kan namanya Turbo :D
Ok, sekarang Fishborg. Buat yang belum tahu, Fishborg cuma ada 3 , dan yang satu ke banned karena Combonya yang dulu sangat melegenda~
Ok, ini yang masih lolos dan tidak jadi narapidana seperti temannya~ :D
Fishborg Planter
Once, while this card is in the Graveyard: You can send the top card of your Deck to the Graveyard, then, if it is a WATER monster, Special Summon this card from the Graveyard. You can only use the effect of "Fishborg Planter" once per turn.
(Level 2)
Fishborg Launcher
If you have a monster(s) in your Graveyard other than "Fishborg Launcher", and all of them are WATER: You can Special Summon this card from your Graveyard. If you do, banish it when it leaves the field. This card cannot be used as a Synchro Material Monster, except for the Synchro Summon of a WATER monster. You can only use the effect of "Fishborg Launcher" once per turn.
(Level 1 Tuner)
Yap, semuanya harus Full Water berarti nih deck. Planter Level 2, bisa Swarming, NgeDump 1 Random, buat Gachi Gachi.
Launcher bisa jadi Synchro Water, bangsa Ice Barrier, dan Synchronya bisa jadi Beatdown :3
Hal hal yang perlu di perhatikan
1. Fishborg aktif kalau semuanya water, jangan masukkan kartu attribute lain ke dalam deck, kecuali anda yakin kartu itu ga bakal / susah ke grave (Battle Fader, Cyber Valley)
2. Fishborg tuh Fish, jadi nggak bisa di Dump sama Swap Frog, yang efeknya ngesend dari deck!
3. Moulinglacia efeknya once per turn, dan kalau handnya lawan cuma 1, effectnya nggak aktif.
Nah, Frog - dan Fishborg - sudah saya jelaskan semua. Mereka ada sinkronnya, karena Fishborg aktif di grave, dan Frog bisa ngedump, terutama Swap Frog. Jadi selamat membuat deck! :D
.
.
.
.
.
.
Wait...
Frog dan Fishborg, Turbonya mana :v
Mungkin setelah melihat deck saya anda bisa mengetahuinya :v
Frog FishBorg Turbo!
Masih nggak percaya ini bisa bekerja?
Lihat Screenshot hasil duel saya~ :D
Makasih sudah baca~ :D
Rex raptor