Kembali lagi bersama saya.. bukan, bukan Armor Master.. ini RareHunter..
bulan lalu sudah diajak Armor Master ngelirik kartu jadul kan? Well kali ini kita juga bakal ngelirik kartu engga kalah jadul dari IYDC Tips sebelumnya..
Mystical Beast of Serket
Lore: Destroy this card if you do not control "Temple of the Kings". Each time this card destroys a monster by battle, the destroyed monster is removed from play, and this card gains 500 ATK.
Betul sekali sodara-sodara! Temple of the Kings masuk ke Forbidden card.. Btw, Serket itu Level 6 coy.. jadi kaga perlu ditaro di Extra Deck.. tinggal ditribute summon aja..
"Jadi, ga guna dong? udah kebanned gimana mau bisa tetep di field?"
Eits, tunggu dulu! Di booster baru, CBLZ, kan ada kartu ini..
The Charging Emperor / Sovereign of the Advance
Temple of the Kings
keforbid? Ga masalah. Ni kartu bisa ngegantiin doski. Ga hanya ngelindungi Serket dari kartu yg narget dia, tapi
Charging Emperor
ngebuat Serket ga didestroy gara-gara efeknya sendiri. Bahkan, Serket masih bisa ngebanish monster + 500 ATK walau ada
Charging Emperor
, lho.. Perlu diingat, ga ada tulisan "Until the End Phase of your turn".
"Tapi kan kita ga bisa special summon monster dari Extra Deck"
Eeh.. ga bisa special summon monster dari Extra Deck ya? Bukannya ada ya kartu yang baru-baru ini release yang punya text sama.. Iya, kartu ini yang dimaksud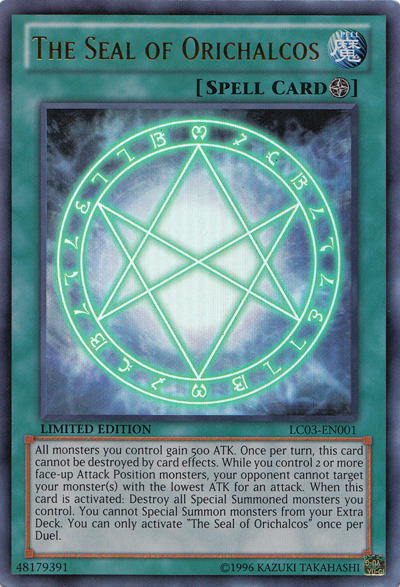 Kartu bagus buat Serket jadi 3000 beater Level 6