[OCG]

Square Enix & Starter Deck 2013
Trollol.. :v Emang ini harusnya FIRE Week, tapi ane baru bisa OL sekarang dan baru bisa ngehapus ini. Kalau ngebicarain FIRE Week, kalian tau kan siapa ini? Ok, kalau sudah tau Mari simak artikel kali ini bersama saya, RareHunter.. Sebelmnya ane becanda dink.. ini bukan news beneran.. well bukan Square Enixnya di Yu-Gi-Oh! atau Square Enix join sama KONAMI ato apalah, tapi character dari game yang mereka buat ada di Yu-Gi-Oh! Apaan sih Square Enix? Itu 2 perusahaan yang merger, Squaresoft dan Enix. Pernah dengar Squaresoft? Iya, ini yang ngebuat game Final Fantasy series. Engga percaya? Mari kita cek satu-satu..
[OCG]

Jump Fiesta 2013 Promotional Pack
Woops. Masa iya ada "Square Enix" dimari? Ada dink.. itu kartu baru yang nongol di pack ini.. pernah baca YGO News PP15 dan Jump Fiesta? Mungkin kalian udah baca, tapi itu sepintas :v
Kuja Kujaku / Kuja Peacock
WIND/Winged-Beast/Effect/Level 3/1200 ATK/900 DEF
If this card on the field is tributed and sent to the Graveyard, you can select 1 Level 4 or lower WIND Monster from your Deck or Graveyard, except a "Kuja Kujaku", and add it to your hand. The effect of "Kuja Kujaku" can only be used once per turn.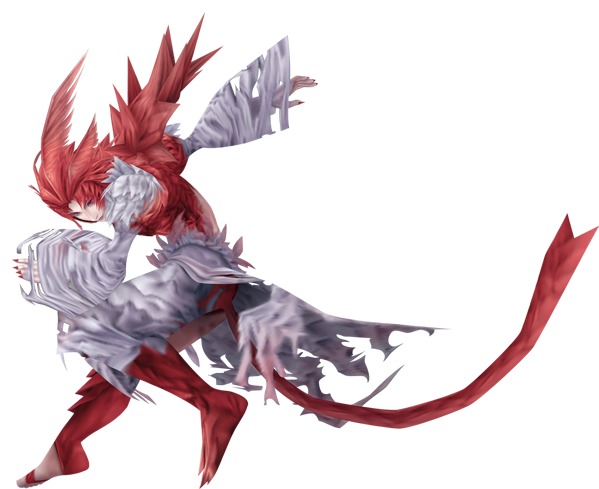 Trance Kuja - Final Fantasy IX
Trollolol :v di sana ada Kuja. Yoi, di game Final Fantasy, tepatnya di Final Fantasy IX buatan Squaresoft ada character bernama Kuja (
クジャ

). Kuja itu character antagonis utama dalam game tersebut :3 Mwahahaha. Sepaking about Kuja Peacock, efeknya jalan kalau dia ditribut. Dengan kata lain, Icarus Attack dan Swallow's Nest om. Iya, dia ga ngurus ditribut summon buat Raiza atau apa, yang penting ditribut.. Seperti kata pepatah, "sambil menyelam, buang air" ga cuma ngeadd monster WIND Level 4 (Dragunity, Heraldic, Harpie mungkin?)

or lower

, tapi bisa special summon dari deck dengan Swallow's Nest dan destroy 2 kartu dengan Icarus Attack..
"Itu kan cuma namanya aja yang sama om, paling-paling di TCG namanya dirubah"
Hoo.. jadi lu masih ngeremehin analisis ane? OK. Yang ini bakal ngebuat elu ngasi itu kue ama susu coklat ke gua.. Ga berhenti sampe di Premium Pack, tapi ada juga di Starter Deck 2013. Mau tau kartu apa?
Sebelum kita simak kartu apa yang mirip sama character Square Enix, ada baiknya saya mengucapkan ini, "Prediksi saya yang bilang Utopia Ray V jadi cover boy Judgment of Light itu FAIL". Well siapa tau sodaranya Judgment Dragon jadi cover boynya Judgment of The Light? Maybe.. di booster ini ada beberapa kartu baru (masih unconfirmed sih) selain Utopia Ray V, di sini juga ada Rank Up Magic Limited Barian Force yang summon "CNo." monster (dibilangin efeknya masih unconfirmed) juga ada kartu ini
bawa pedang ga baik buat anak-anak
DARK/Spellcaster/Effect/Level 2/800 ATK/1200 DEF
If you control a "Gagaga" monster other than "Gagaga Kid", you can Special Summon this card (from your hand). If Special Summoned this way: You can target 1 "Gagaga" monster you control; have this card's Level become the Level of the target. If you activated this effect, you cannot enter your Battle Phase during this turn.
Bingung apanya yang mirip? Topinya? Bukan. Salah kalau kalian mikir topinya ngikutin Black Magi di Final Fantasy. Bukan itu yang ane maksud...
masih belum ketemu hal yang sama dengan character Square Enix? Ya udah, kalau nyerah ane kasi tau.. :3 berhubung ngeliatnya engga jeli sih kalian..
Axel & Ro

x

as - Kingdom Hearts II
Yeah, dude! Yang ada di artnya Gagaga Kid itu sea salt ice cream.. Roxas, character di Kingdom Hearts II ini demen banget sama itu ice cream :v Bener kan kalo ad Square Enix? Mwahahaha.. :v bicara tentang Gagaga, the awkward moment when you search Gagaga in Google, there are many Lady Gaga :v True Story, bukan Toy Story tapi true story. kalo Toy Story mah lain lagi ceritanya.. ngomong apaan sih..
Speaking of Gagaga Kid, attribute dia itu DARK jadi pas untuk Allure of Darkness.. Sayang levelnya 2 jadi ya terget buat Gagaga Clerk. Tapi bukan Warrior? Ya masih bisa buat summon GGG dan Shine Elf atau Daigusto Phoenix. Lumayan.. efeknya jalan sama Gagaga Magician. Andai si Gagaga Girl efeknya kek gini, tanpa cost "Ga bisa Battle Phase" cocoklah Gagaga Girl dijad

i

in Super Rare di ABYR TCG..
Selain si Gagaga Kid, ada apa saja di Starter Deck 2013?
Yu-Gi-Oh! Zexal Official Card Game 2013

1260 Yen




March 16th, 2013




This Starter Deck for beginners has been designed in a new way. making it easier to start playing and to be able to enjoy yourself. Starter Deck 2013 also comes with packs to help buff the Starter Deck, so you can enjoy building your Deck, the way YOU like it.





Contents:




1 Preconstructed Deck (42 Cards)




2 Starter Deck Strengthening Packs (15 Different Cards, 5 Cards in Each Pack)




1 Official Rulebook




1 Starter Guide




1 Duel Field






● The cards included are easy to read even for the most noobish of Duelists, so it's the perfect product for someone just getting into the Yu-Gi-Oh! Official Card Game. In addition, by using the cards of the Strengthening Packs, you can easily construct the Deck in a way you like.




● Included is at least 1 new Xyz Monster from the animated series that has never been printed in the Official Card Game before. The Deck also includes cards from the latest happenings in the animated series, so this Deck heavily appeals to fans of the TV Show, along with new beginners.




● With a combination of a large bunch of practical cards as well as new cards for people to get used to, this Deck will appeal to a wide range of players.
= = = = = = = = = = = = = = = = = = = = = = = = = = = = = = = = = = = = = = = =
Phew~ jadi kesimpulannya

A

nda

sekalian

bisa menyatakan kalau saya "Otaku". Engga juga sih, ane cuma demen main game aja.. cuma tau beberapa

anime

juga.. Sekian dulu dari saya