IYDC Combos -
Double posting day! (yang DoPost ini RareHunter) Setelah baca artikel
Labyrinth of Fiend
tadi, kepikiran kalo Chess Archfiend serasa diganti ama Archfiend yang baru? NO! Mereka engga diganti sama sekali.. justru mereka tersupport juga berkat kartu baru dari VJMP ini.. Langsung aja ya..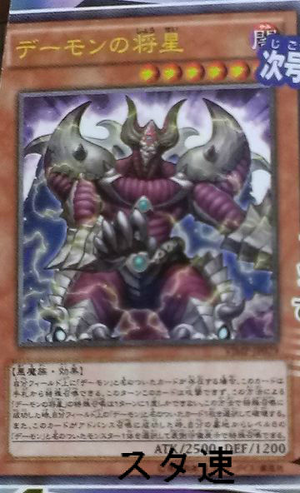 Archfiend Commander
DARK/Fiend - Effect/6/2500/1200
"
If you control an "Archfiend" monster, you can Special Summon this card (from your hand). When you do: Target 1 "Archfiend" monster you control; destroy it. This card cannot attack during the turn it is Special Summoned this way. You can only Special Summon "Archfiend Commander" this way once per turn. When this card is Tribute Summoned: You can target 1 Level 6 "Archfiend" monster in your Graveyard; Special Summon that target.
"
Dilihat baik-baik secara seksama, kartu ini dan Field Spell baru Archfiend serasa menjadi Xyz engine (Tanpa tu Field Spell baru pun sebenernya sudah jadi engine Xyz sih, sayang cuma unuk Rank 6 aja (hint:
Archfiend Empress
)). Tapi combo mereka perlu setup yang lumayan susah, ente perlu ada Archfiend di graveyard, terlalu lelet buat meta sekarang dan ke depan. (Ya iyalah, masih kalah jauh sama Fire Fist dan Elemental Dragon)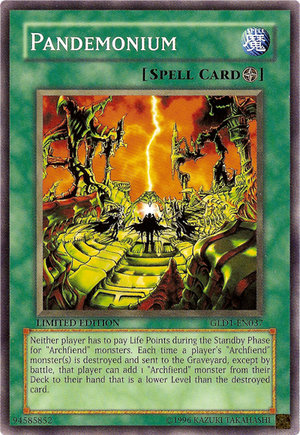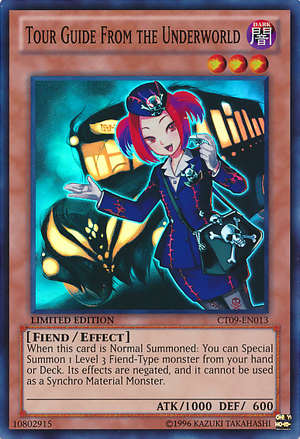 Jadi combo apa yang akan kita bicarakan kali ini? Sesuai judulnya, combo kali ini akan membantu Chess Archfiend dengan support baru mereka serta kartu baru di JOTL...
Transturn
Spell Card/Normal
"
Send 1 monster you control to the Graveyard; Special Summon 1 monster from your Deck with the same Attribute and Type as the sent monster, but 1 Level higher. You can only activate 1 "Transturn" per turn.
"
Berikut combo yang bisa dimainkan di Archfiend.. (untuk combo dengan archetype lain akan dibuat postingan khusus untuk
Transturn
)
Hand: Tour Guide,
Archfiend Commander
,
Transturn
normal summon Tour Guide> special summon Trick Archfiend (deck)
special summon Archfiend Commander (special summon condition)> destroy Trick Archfiend
efek Trick Archfiend jalan> add Desrook Archfiend
Tour Guide bakalan nyampah di field> aktifin Transturn> send Tour Guide> summon Terrorking Archfiend
Gimana? Emang combonya bukan OTK, kan dari judulnya ga ada nulis OTK :v cuma beberapa play yang bisa kalian lakuin di Chess Archfiend aja.. Ga hanya dengan Tour Guide, kalian juga bisa bermain Archfiend dengan menggunakan
Rescue Rabbit
.. Berikut play yang bisa kalian lakukan: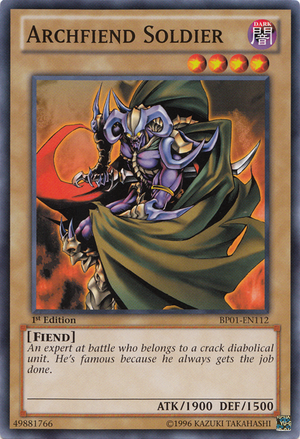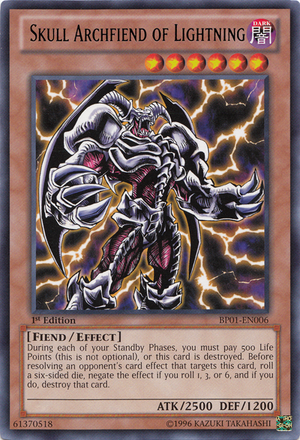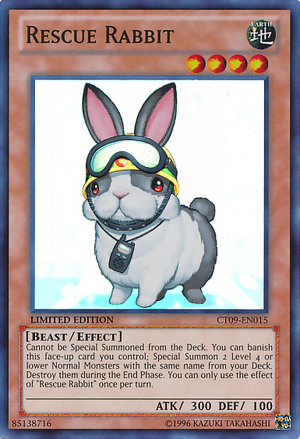 Hand:
Rescue Rabbit
, Archfiend Palace,
Archfiend Commander
normal summon Rescue Rabbit> special summon 2x Archfiend Soldier
aktifin Archfiend Palace (kalo ga ada di tangan bisa diadd dulu pakai Terraforming) kalau sebelumnya belum ada di field
special summon Archfiend Commander A> destroy 1 Archfiend Soldier> special summon Skull Archfiend of Lightning atau Archfiend Commander B (atau Level 6 Archfiend monster lainnya, buat listnya bisa dicek di wikia)
xyz Archfiend Commander + 1 Level 6 "Archfiend" monster = Rank 6 Xyz monster (terserah mo summon Exa-Beetle, Photon Strike Bounzer, ato Gauntlet Shooter)
P.S.: dulu Rex sempat buat Rabbit tapi itu sama Pandemonium. Engga pake Archfiend Soldier sih, pake Warrior of Zera

"Saya pakai Pandemonium, katanya ada yang ngebantu Chess Archfiend"
Ah, iya dink. Lupa. :v kirain ga mo tau combonya apaan...
Hand:
Rescue Rabbit
,
Pandemonium
,
Archfiend Commander
normal summon Rescue Rabbit> special summon 2 Archfiend Soldier
aktifin Pandemonium (kalo ga ada di tangan bisa diadd dulu pakai Terraforming) kalau sebelumnya belum ada di field
special summon Archfiend Commander> destroy 1 Archfiend Soldier> efek Pandemonium nyala> add Terrorking Trick Archfiend
End Phase: destroy Archfind Soldier (efek Rescue Rabbit)> efek Pandemonium nyala (lagi!)> add Desrook Archfiend.
Next turn: summon Terrorking Archfiend
Thanks buat om emjhe dibawah, maklum buatnya tengah malem.. jadi mata setengah sadar dan ga baca kartu ampe habis *Alibi
Rabbit? Kelinci?? Sebelum lupa, saya mengucapkan selamat hari Easter buat yang merayakan =)
Baby Tragon bukan "Rabbit" :3 Matanya aja yang merah
Okeh. All in all, "if you run Archfiend this format then you'll have a bad time." :instructor.jpg:
Thanks for reading. ~~RareHunter