YGO News: Duelist Pack - Yuma 2 Gogogo & Dododo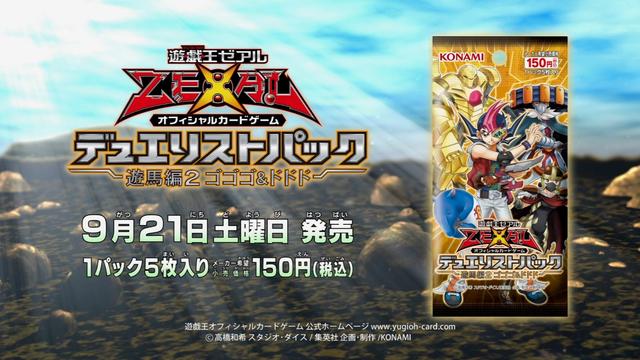 Release: 21 September 2013
Price: 150 Yen (including tax)
5 cards/pack, 15 packs/box
17 common
Berhubung kemarin kita sudah membahas tentang TCG News (Astral Pack 3, walau dibahas sepintas), kali ini kita akan membahas OCG News, DP14 yang seminggu lagi akan dirilis di OCG. Tidak seperti DP Yuma sebelumnya yang isinya hampir semuanya kartu baru, kali ini lumayan sedikit kartu barunya.. Btw, di sini kita hanya membahas kartu barunya saja, buat Set Card List bisa dibuka di wikia :)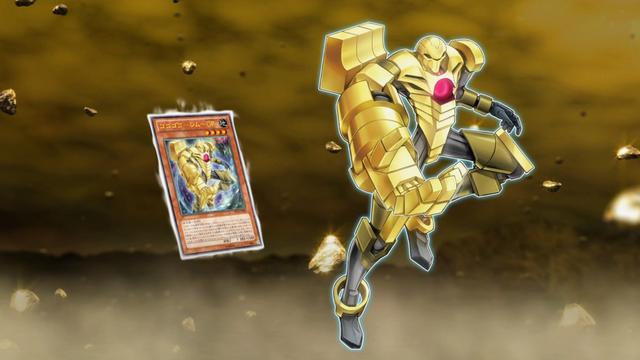 New Card: Gogogo Golem - Golden Form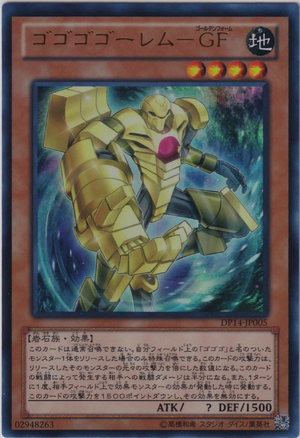 Gogogo Golem - Golden Form
EARTH/Level 4/Rock/Effect
? ATK/1500 DEF


Cannot be Normal Summoned/Set. Must be Special Summoned (from your hand) by Tributing 1 "Gogogo" monster, and cannot be Special Summoned by other ways. This card's ATK is equal to double the Tributed monster's original ATK. Battle damage inflicted to your opponent by this card is halved. Once per turn, when a monster effect is activated on your opponent's side of the field: This card loses exactly 1500 ATK and that effect is negated.



Ini dia monster baru yang akan masuk ke archetype "Gogogo". ATK powernya dia ditentukan oleh ATK power monster "Gogogo" yang ditribute buat special summonnya.. Jadi Gogogo Golem - Golden Form memiliki ATK 3600 points (tribute Gogogo Golem), 3800 ATK (tribute Gogogo Ghost), bahkan 4000 point (tribute Gogogo Giant).. Dengan ATK power setinggi itu, dia memiliki kelemahan yang tinggi juga: battle damage yang diberi oleh monster ini menjadi halve...Gogogo Golem - Golden Form tidak bisa dinormal summon, jadi kalian engga perlu bawa dia 3 lembar di deck Gogogo.. nyesek sendiri ntar.. Dilihat dari text yang dia miliki, efeknya ga jauh beda dengan Light and Darkness Dragon.. ATK point sama-sama nyusut (LaDD nyusutnya cuma 500, tapi kalau yang ini nyusutnya 1500 -_-) kalau lawan Treeborn Frog atau Inzektor Giga-Mantis.. Karena efeknya dia yang menegate efek monster di arena lawan itu ga optional..
New Cards: Dododo Gasser dan Dododo Witch


EARTH/Level 8/Warrior/Effect
When this card is Flip Summoned: It gains 3500 ATK. When this card is flipped face-up: You can target up to 2 face-up monsters on the field; destroy the target(s).

Akhirnya Konami memberi sesuatu yang baru untuk flip monsters, walaupun di textnya Dododo Gasser engga ada kata FLIP layaknya Morphing Jar, di textnya ada "When this card is flipped face-up".itu artinya dia harus diset terlebih dahulu, baru efeknya jalan.. special summon aja pakai Burst Reverse, gampang toh? Biar engga mainstream, kalian bisa pakai Giant Rat> special summon Dododo Gasser> Inferno Reckless Summon (jangan ditiru :v bakal miss timing ntar..)> Shield & Sword, layaknya Millenium Shield yang dispecial summon Box of Friends.. 3000 DEF, lumayan tinggi juga.. 3000 DEF yang bisa menjadi 3500 ATK?? Waduh, sudah hampir setengah Life Points itu pak de.. Ya ada alasanlah buat masukin Burst Reverse atau Chaos Infinity.. :v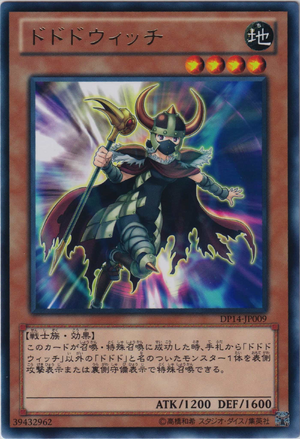 Dododo Witch
EARTH/Level 4/Warrior/Effect
1200 ATK/1600 DEF
When this card is Normal or Special Summoned: You can Special Summon 1 "Dododo" monster from your hand in face-down Defense Position or face-up Attack Position, except "Dododo Witch".
Selain Burst Reverse, Gogogo Gasser juga bisa dispecial summon set (face-down DEF position layaknya Shallow Grave) oleh kartu ini, Dododo Witch.. Goblindbergh buat Gogogo lah.. instant Xyz Rank 4.. Selain untuk menghindari Dododo Bot yang dead hand, bagusnya dari Dododo Witch cuma itu.. EARTH/Levell 4/Warrior.. buat yang sering main Heroic Challenger - Extra Sword, pasti taulah ya Dododo Witch bisa diapain selain buat summon Dododo Gasser..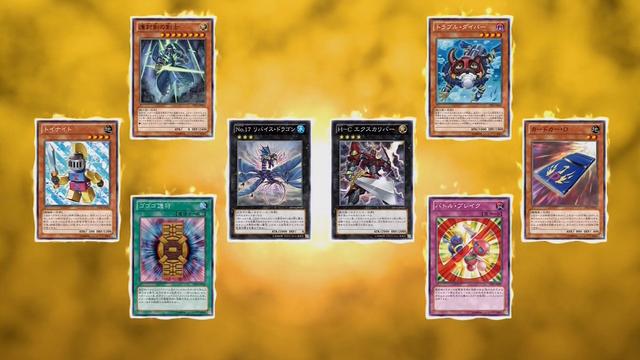 Toy Knight, Swordsman of Sealing Swords, Gogogo Gofu, Trouble Diver
Toy Knight
EARTH/Level 4/Machine/Effect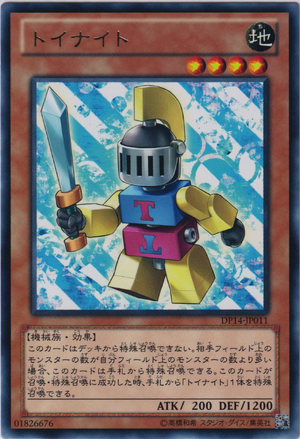 Cannot be Special Summoned from the Deck. If your opponent controls more monsters than you do, you can Special Summon this card (from your hand). When this card is Normal or Special Summoned: You can Special Summon 1 "Toy Knight" from your hand.
Bagus sih bagus ni kartu, bisa disearch Gear Gigant X (terserah diadd dari deck atau graveyard), EARTH/Level 4/Machine menjadi makanan empuk Machina Fortress, Daybreaker untuk monster Machine lah pokoknya.. apa? mirip Evilswarm Mandragora? Oh, iya juga.. bagian awalnya mirip sedikit.. Tapi Toy Knight bisa membantu pemanggilan Burei di deck Karakuri.. Bantu-bantu Gadget dan Geargia juga buat swarming.. Cuma jeleknya ada satu, engga bisa dispecial summon pakai Machine Duplication -_-) "Tapi ATK powernya dia 200 points, lebih kecil dari 500 points kan?" elu bacanya belum ampe bawah, makanya dibaca dulu efeknya baik-baik..
Swordsman of the Sealing Swords
LIGHT/Level 8/Warrior/Effect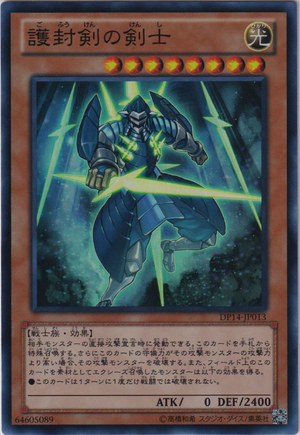 When an opponent's monster declares a direct attack: You can Special Summon this card from your hand, then destroy that attacking monster if this card's DEF is higher than that monster's ATK. An Xyz Monster that was Summoned using this card as Xyz Material gains this effect.
● Once per turn, this card cannot be destroyed by battle.
Ya, sepintas dia mirip Gorz. Tapi Gorz perlu field yang kosong buat dispecial summon, jadi engga bisa disamain.. Apalagi dengan Tragoedia, udah jauh efeknya.. Jadi cuma bisa dibandingkan dengan Battle Fader.. :) LIGHT/Level 8/Warrior.. pas ditaruh di deck Photon/Galaxy.. Lumayanlah buat bahan panggil Felgrand the Divine Knight.. Kelihatannya KONAMI ingin ngesupport Level 8 spam untuk memanggil monster Xyz Rank 8.. Selain Photon/Galaxy, SOSS bagus juga dimasukkan ke Gimmick Puppet.. Jadi bisa main Chaos deh :v Dengan 0 ATK point yang dimiliki, sudah jelas dia ga perlu dispecial summon pakai Shining Angel.. kecuali mau dibalikin pakai Genex Ally Birdman.. SOSS lumayan berguna di berbagai deck, khususnya deck yang bisa ngesummon Caius, atau monster Monarch lainnya.. Pengganti Battle Faderlah kalau tiba-tiba KONAMI ngapa-ngapain Fader.. Tapi ada 1 yang disayangkan, dia engga stop Battle Phase seperti yang dilakukan Battle Fader.. hanya saja dia akan menghancurkan monster lawan yang ngedirect attack dimana ATKpowernya lebih kecil dari SOSS.. Ga jelek-jelek amat..
Gogogo Gofu
If you control 2 or more "Gogogo" monsters, you take no effect damage. Once per turn, when a "Gogogo" monster you control attacks or is attacked: That monster cannot be destroyed by that battle.
Finally, Gogogo akhirnya dapat S/T support.. Efeknya yang pertama sih ga bagus-bagus mamat, syaratnya pun gampang dipenuhin.. tau sendirilah ya Gogogo itu lumayan cepat swarmingnya (akan dibahas di post berikutnya :v dan dibahas lebih dalam disana).. Efek yang kedua ini yang mantap.. Selain Gogogo Golem yang once per turn ga bisa didestroy by battle, kartu ini justru ngebuat stall kita makin lama :v stalling sampai terkumpul 2 monster untuk dijadikan bahan xyz.. Kartu ini juga bisa mempertahankan agar

Gogogo

Golem

- Golden Form stay cool di field nyambi ngenegate efek monster lawan.. now we can keep him on the field while negating your opponent's effs. Masalahnya, untuk menjaga agar kartu ini berguna di arena, kita harus ga Xyz Summon atau Synchro summon menggunakan monster Gogogo.. Jadi efek kedua dari Gogogo Gofu kelihatannya ga akan bertahan lama.. Kecuali kalau situ pakai Pinpoint Guard untuk special summon Gogogo Ghost> special summon Gogogo Golem> dan special summon Gogogo Gigas dari graveyard..
Trouble Diver
DARK/Level 4/Warrior/Effect
If your opponent controls a monster, and all the monsters (if any) you control are Level 4, you can Special Summon this card (from your hand). You can only Special Summon "Trouble Diver" once per turn this way. This card cannot be used as an Xyz Material for an Xyz Summon, except for the Xyz Summon of a Warrior-Type monster.
"Apaan tu' restriksinya? Ga banget amat ni kartu" Well, kalau dia engga direstriksi kek gitu nanti jadinya elu special summon Trouble Diver seenak jidat.. Yup, spam Trouble Diver dari tangan tanpa mikir kondisi fieldmu dan field lawan yang hanya ada 1 monster.. Ingat, dia bisa dipakai Synchro Summon.. Jadi wajar aja restriksinya begituan,, Tapi, dilihat dari ATK powernya sih ada peluang digabung dengan Inferno Reckless Summon.. Lebih baik sih bawa Blue Mountain Butterspy daripada bawa beginian :v
Bakudan
EARTH/Level 1/Beast/Effect
ATK 100/DEF 100
You can target 1 Xyz Monster your opponent controls; equip this monster from your hand or your side of the field to that target. If the equipped monster has no Xyz Material, while this card is equipped to that monster by its own effect, destroy that monster. While this card is equipped to an Xyz Monster, during each Standby Phase: Detach 1 Xyz Material from the equipped monster.
Efeknya simple banget. Target monster Xyz lawan yang ga punya Xyz Material (efeknya habis, kena Temtempo, dll), monster yang ga punya Xyz materialnya hancur.. Ga cocok buat Evilswarm Ophion.. sampah..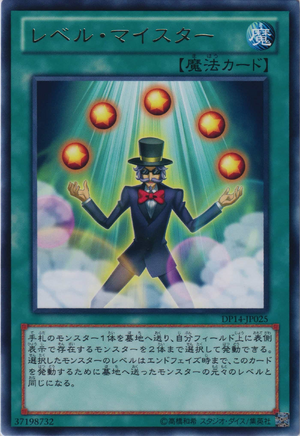 Level Meister
Normal Spell Card
Send 1 monster from your hand to the Graveyard, then target up to 2 monsters you control; until the End Phase, the Level of the targeted monster(s) becomes the original Level of the monster sent to the Graveyard to activate this card (even if the targeting conditions are no longer correct).
Bagusnya kartu ini dia bisa send Dragon Ruler yang nyangkut dan target Maiden with Blue-Eyes.. Bisa juga ngesend Grapha, tapi ya tau sendirilah ya kalau efeknya Grapha ga aktif.. Grapha dikasi Trade-In aja ga aktif, apalagi yang beginian :v Oh ok, jadi apa alasan mereka rilis kartu beginian? Well, kalau Rank 12 "New Orders" monster di Anime juga mau dirilis OCG, kartu ini punya potensial buat fun deck.. normal summon Tour Guide> special summon Tour Guide> aktifkan Level Meister> send Yubel, the Ultimate Nightmare atau Malefic Truth Dragon.. berhubung belum dirilis, kita bisa send Yubel, D.D. Esper Star Sparrow, Tragoedia, dll untuk Xyz Rank 10.. buat yang mau main OTK, bisa juga bawa kartu ini di deck The Calculator OTK.. Tak hanya untuk summon monster Xyz, Level manipulation card seperti ini terkadang berguna juga untuk membantu synchro summon.. Kebetulan Level Cross belum dirilis di OCG, dan sepertinya engga akan dirilis dalam jangka waktu yang cepat, bisa juga Level Meister digunakan untuk deck Gimmick Puppet (tau sendirikan di deck Gimmick Puppet ada monster Level 4 dan 8, ga semuanya Level 8) Ada beberapa play yang bisa kita lakukan dengan kartu ini selain play yang sudah dijelaskan..
Hand: Gusto Griffin, Level Meister
Field: "Gusto" Tuner monster
Graveyard: 1 "Gusto" monster
aktifkan Level Meister> send Gusto Griffin> discard Griffin, ubah Level Tuner monster di field jadi 2

aktifkan efeknya Griffin> special summon Caam> aktifkan efeknya Caam> shuffle 2 Gusto monster, draw 1 kartu

tune Caam + 1 Gusto Tuner Monster = Daigusto Sphreez
Hand: Junk Synchron, Level Meister, Nimble Angler
Graveyard: Treeborn Frog, Level 2 monster (target untuk Junk Synchron)
Standby Phase: special summon Treeborn Frog
Main Phase: normal summon Junk Synchron> special summon 1x Level 2 monster
aktifkan Level Meister> send Nimble Angler> Junk Synchron & Treeborn Frog = Level 2
special summon 2x "Nimble" monster> tune semuanya jadi Junk Destroyer> destroy 4 kartu
Hand: Level Meister, Tidal, Dragon Ruler of Waterfalls / Light and Darkness Dragon / Caius the Shadow Monarch/monster Monarch yang lain
Field: 2x Ronintoadin
aktifkan Level Meister> send Tidal/LaDD/Caius> Ronnintoadin = Level 7/6/8
overlay 2x Ronnintoad jadi Xyz Rank 7 (Number 11, Number 74, Dracossack, dll), Rank 6 (Swordbreaker, Constellar Ptolemy M7, Inzektor Exa-Beetle, dll), Rank 8 (Felgrand, Hieratic Heliopolis, Number 107, dll)
Hand: Level Meister, Blue-Eyes White Dragon
Field: Maiden with Blue Eyes, Hieratic Dragon of Nuit
aktifkan Level Meister> send BEWD

Maiden dan Nuit = Level 8

special summon 2x BEWD (1 dari efeknya Nuit, yang 1 lagi dari efeknya Maiden)

overlay keempatnya jadi 2x Felgrand the Divine Dragon Knight
ATAU
overlay 2x BEWD = Thunder End Dragon
overlay Nuit + Maiden = Felgrand the Divine Dragon Knight
detach 1x Xyz Material dari Thunder End Dragon> destroy semua monster

detach 1x Xyz Material dari Felgrand

Battle Phase: 3000 + 2800 = 5800
ATAU
overlay Nuit + Maiden = Number 107: Galaxy-Eyes Tachyon Dragon

Battle Phase: detach 1x Xyz Material dari Number 107> 2x BEWD kembali jadi 3000 ATK

3000 + 3000 + 3000 = OTK
Sama seperti Galaxy Queen Light, underrated tapi punya potensial yang tinggi.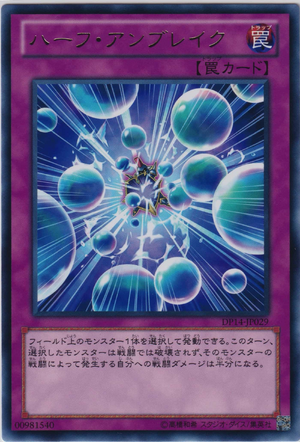 Half Unbreak
Normal Trap Card
Target 1 monster on the field; this turn, that monster cannot be destroyed by battle,

(and/also?)

halve battle damage you take from battles involving that monster.
LOL, efeknya mirip banget sama efeknya di anime :v Well, akankah sesuatu terjadi pada Waboku dengan dirilisnya kartu ini? Kita tunggu saja Ban List kedepannya bagaimana.. :) Yang jelas, Waboku masih jauh lebih bagus daripada kartu ini.. Ga perlu nanya harus bawa dia atau engga, taruh dia 3 lembar di Main Deck kalau Waboku dibanned.. Lumayanlah buat yang engga dapet Waboku dan Forbidden Lance untuk deck Maiden with Blue Eyes atau Gladiator Beast.. Tapi Pinpoint Guard direprint lho di mari..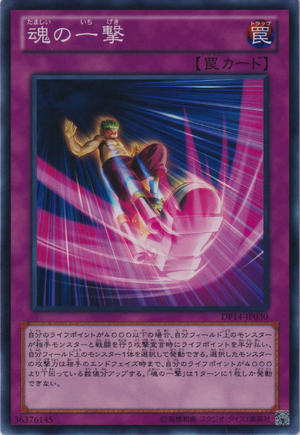 Soul Strike
Normal Trap Card
At an attack declaration involving a monster you control and an opponent's monster, if you have 4000 Life Points or less: Pay half your Life Points, then target 1 monster you control; until your opponent's End Phase, that monster gains ATK equal to the difference between your Life Points and 4000. You must have less than 4000 Life Points to resolve this effect.
You can only activate 1 "Soul Strike" per turn
Yang lagi ngeRider Kick ini mirip sama yang ada di Big Bang Shot.. Kartu terakhir yang akan kita bahas. Trap Card ini mirip-mirip dengan efeknya The Winged Dragon of Ra, bayar Life Point untuk menaikkan ATK power.. tapi yang ini lebih situasional dan sedikit sampah..
Reprints:
Gogogo Golem

Gogogo Giant

Gogogo Ghost

Gogogo Gigas

Dododo Warrior

Dododo Bot

Dododo Buster

Zubaba Knight

Zubaba Buster

Cardcar D

Amarylease

Number 17: Leviathan Dragon

Maestroke the Symphony Djinn

Heroic Champion Excalibur

Gauntlet Launcher

Xyz Gift

Magnum Shield

Battle Break

Pinpoint Guard
"Ko ga ada kartu baru yang broken om? Banyak sampahnya.. -_-)"
Well, situ dari kemarin kemana aja? Yaiyalah, ga ada yang broken.. kartu-kartunya Yuma yang direlease ke OCG/TCG mana ad yang broken.. Wajar aja lah.. Oh iya, buat yang main TCG engga usah berkecil hati.. :) Teman-teman yang bermain TCG akan mendapatkan kartu-kartu dari Duelist Pack Yuma 2 ini di Premium Tin (Mirip-mirip DP Yuma 1 dan DP Kaito dirilis di TCG gitu..) selanjutnya.
~~RareHunter