YGO News: LC04 Joey's World Promos
Loop dari YGO News dimulai lagi.. \:v/ Setelah kemarin kita membicarakan DP Yuma 2 yang keluar di OCG, YGO News kali ini datang dari TCG land.. Tak lain dan tak bukan, Legendary Collection 4.. Didalamnya juga ada 3 kartu World Premiere (TCG Exclusive):
Blue Flame Swordsman
,
Card of Last Will
, dan
Harpie Lady Phoenix Formation
.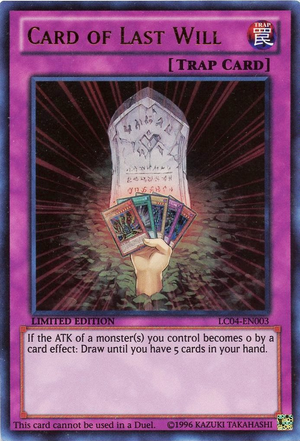 Card of Last Will
Normal Trap Card
If the ATK of a monster(s) you control becomes 0 by a card effect: Draw until you have 5 cards in your hand.
Dulu kita sudah melihat spoiler
Card of Last Will
yang katanya tidak bisa digunakan dalam official duel.. Jadi, mari kita lihat 2 kartu baru lainnya yang direveal!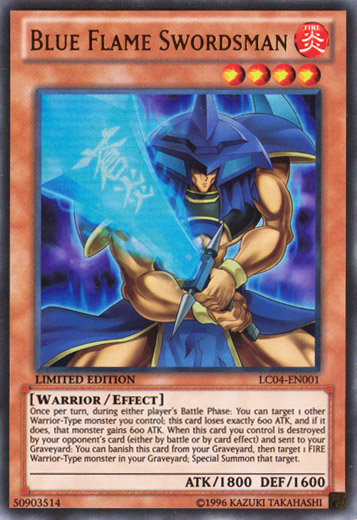 Blue Flame Swordsman
FIRE/Level 4/Warrior/Effect/ATK 1800/DEF 1600
Once per turn during either player's Battle Phase: You can target 1 other Warrior-Type monster you control; this card loses exactly 600 ATK and if it does that monster gains 600 ATK. When this card you control is destroyed by your opponent's card (either by battle or card effect) and sent to your Graveyard: you can Banish this card from you graveyard and target 1 FIRE Warrior-Type monster in your Graveyard; Special Summon that target.
Efeknya sedikit bagus dari efek yang di Anime, dia bisa special summon FIRE Warrior monster level berapapun.. Jadi dia ga hanya bisa special summon
Flame Swordsman
(special summon pakai
Instant Fusion
lalu bangkitin
Flame Swordsman
).. alias kita bisa special summon monster-monster Burning Knuclers atau
Command Knight
,
Brushfire Knight, Rose, Warrior of Revenge
(FIRE/Warrior/Level 4/Tuner),
Phoenix Gearfried
(FIRE/Warrior/2800 ATK),
Knight of the Red Lotus
,
Evocator Chavlier
(ada yang mau balik main Gemini deck lagi?),
Valkyrian Knight
,
Crimson Blader
(Level 8/FIRE/Warrior/Synchro/2800 ATK),
The Six Samurai - Kamon, Hand of the Six Samurai
dan
Great Shogun Shien
serta kopiannya sendiri,
Blue Flame Swordsman
.. :v (Silahkan buka
link
berikut untuk lebih tau monster apa saja yang bisa dispecial sumon)
Blue Flame Swordsman
berattribute FIRE (obviously), jadi makin cocok saja bawa
Blaster, Dragon Ruler of Infernos
di deck Battlin Boxer.. TAPI, Blue Flame hanya memberi tambahan 600 ATK (ga ada embel-embel "till the End Phase", berarti permanent boost). Berhubung
Blue Mountain Butterspy
bukan FIRE/Warrior, jadi
Blue Flame Swordsman
sepertinya dapat (sedikit) membantu Battlin' Boxer..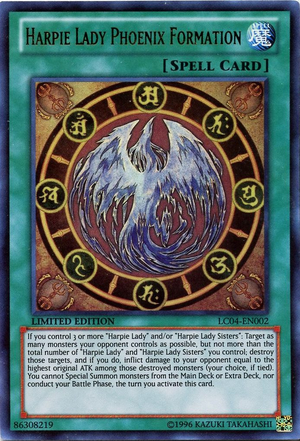 Harpie Lady Phoenix Formation
Normal Spell Card
If you control 3 or more "Harpie Lady" and/or "Harpie Lady Sisters: Target as many monsters your opponent controls as possible but not more than the total number of "Harpie Lady" and "Harpie Lady Sisters" you control; Destroy those targets and if you do inflict damage to your opponents life points equal to the highest original ATK among those destroyed monsters. You cannot Special Summon monsters from the Main Deck or conduct your Battle Phase the turn you activate this card.
Di antara kartu "broken" dan kartu "sampah", ada yang namanya kartu "balance". "
Jadi ini kartu balance?
" Dibilang balance juga engga.. tanya kenapa? Kita tidak bisa summon monster dari Main Deck di turn kita mengaktifkan kartu ini.. Jadi walau kita mengcombo
Summoner Monk
> discard
Hysteric Sign
> special summon Harpie monster> kita tidak bisa mengaktifkan kartu ini :( (Trollolo~ tapi masih bisa special summon dari graveyard,
Hysteric Party
says Hi :v) Belum selesai, inflict damagenya "equal to the highest original ATK among those destroyed monster" tidak seperti efek di Anime yang memberi damage sebanyak jumlah semua ATK power monster di field lawan :( Semua perubahan efek ini sih wajar-wajar saja.. :) Dilimitnya
Divine Wind of Mist Valley
(di OCG) dan
Genex Ally Birdman
untuk menghindarkan Harpie dari archetype yang fokus ke control menjadi OTK.. Entah apa alasan mereka merilis kartu ini, ane ga ngerti.. apa
Harpie's Hunting Ground
,
Lightning Chidori
, dan
Icarus Attack
masih belum cukup ya? -_-)
Afterwords,
Buat yang lihat ada update tentang Zexal! Duel Carnivall dari IYDC, itu sebenarnya dokumen/artikel yang mau dipost tapi ga jadi :v gambarnya belum dimasukin semuanya..
Harpie Lady Phoenix Formation
dan
Blue Flame Swordsman
juga engga sampah-sampah amat.. :)
~~RareHunter